Get paid to promote games
Join the exclusive Affiliate Program and start earning an income while doing what you love!
Are you a passionate gamer?
Do you run a social media account or a blog about games? Are you a streamer or a youtuber? Do you organize tournaments or other game related events? Are you a talented player developing an e-sports career or a commentator? 
Do you want to fund your passion while partnering up with a talented indie developer? Whether you are a big fish or an up and coming new kid, this is for you.
I'm a lone adventurer who goes by the name of Igor Sandman. As a one-man squad, I'm developing indie games with a focus on beautiful graphics and deep story. Prior to that, I worked for over 6 years as freelance artist on indie games both small (Raining Blobs) and bigger (Faeria). Since I started working on my own games, I got nominated at the Belgian Game Awards for both Best Art Award and the Fresh Talent Prize. 
Now I'm trying to live the dream, just like you.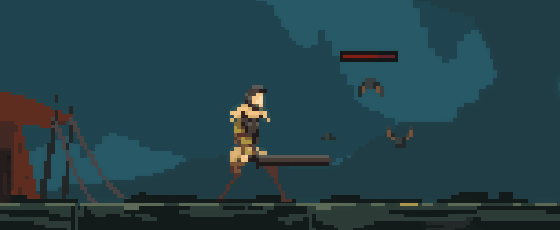 Embark on a dark fantasy adventure and follow Sellsword, the immortal, as he seeks a purpose in eternal life.

Explore the city of Ravenrock, where the Guild of Darksteel has set office. Become one of their immortal mercenaries and investigate the mysterious tunnels underneath the city.

What secret do the bowels of Ravenrock hold? Only you can find out.

Guild of Darksteel is an adventure game with a beautiful pixel art style and an immersive story. It is inspired by the cinematic platformer classics of my youth: Another World, Flash Back and Prince of Persia.
Learn more about the game here.
How can we help each other?
You have a gaming related career or hobby and I make games for a living. By working with you, I get a chance to be exposed to a niche community of like-minded gamers while you receive an opportunity to generate additional income to develop your career. 
Let's grow together!
Join for free
Earn a share of every sale you make, starting at 20% with the potential to earn up to 30% based on performance.
Sign up in a simple way by filling the form bellow and your application will be assessed manually by me.
Receive your payment easily, fulfilled by Gumroad, the web store for artists. They will send you your link and pay your share.
Download the promotion art pack that will help you boost your sales. Get it here.
Get one of the highest share in the industry, starting at 20% with the potential to reach 30% based on your performance.
Everyone is welcome here! No matter how small you think you are, we can work together. I would love to help you grow while making games!
Sell actual games, not just game related products. Your followers are gamers, just like us. We buy games more than headsets and gaming t-shirts.
Partner for the long run and get a great deal that lasts. As I keep making games, you keep getting new products to earn from.
You're in good hands with a professional who has been working in the indie games industry for 6 years.
Get a humane relationship with an artist who loves what he does. I'm looking out for my affiliates like my brothers and sisters.
Are you ready to start earning?
Fill the form bellow, give me a few days to personally review your application and you'll be ready to start making money.
What does it cost to join?
It's free!
What's the minimum sales required?
There is no minimum required. You get a share of what you sell. However, I ask that you only join if you think you can sell. It takes time and effort to manage this affiliate program. If it turns out you didn't make any sales, you will might not be able to remain in the affiliate program again for future games.
How is the payment handled? Is the payment secure?
Once your application has been accepted, gumroad will take over. Gumroad is a trusted web store for artists. They will send you your personal link to the email address you provided. They will pay your share based on the percentage we agreed upon. Visit Gumroad for more info about them and their affiliate program.
How does this affiliate program differ from the other similar programs out there?
The first benefit of my affiliate program is I give you a starting 20% that can increase up to 30% based on your performance. Most affiliate programs out there give you about 10%, especially if you are small.
The second benefit is I sell games not gaming product (like t-shirts or headsets). Gamers buy more games than gaming product.
Third, there is very little requirement. Most affiliate program will only work with people with thousands of followers. The reason they do it is because they are big and they only want to associate with established figures in the gaming community to maximize the return on their investment. I am a small indie developer. I can work with smaller influencers. In fact it would be mutually beneficial to collaborate since we would grow together. Your share would help you fund your activity and I sell my games.

Fourth, you get a relationship with an artist, not a company. We help each other grow. The humane aspect of the relationship is something you don't get elsewhere.

All those benefits make this program a good pick especially considering the fact that you don't want to have a ton of links and spam your audience. When you only have one link, the best deal you can get will net you the best revenue. I believe my offer is one of the best deals you can get.

What are the rules and restrictions of the program?
Spamming is forbidden. You can only post your affiliate link to your own community or a community that you administer. You can't post it on reddit, facebook pages, forums, discords or any kind of public community that that you don't administer yourself.
How do I make sure I sell copies?
Be genuine, don't apply for the program if you don't care about the product you'll be selling. You'll lose your audience and I won't make sales. It's a bad deal for both of us.
The simplest thing you can do is post your affiliate link on twittre, facebook, in the description or pinned comment of your youtube videos or in the description of your twitch page, make an announcement on your discord.

I would recommend going one step further and talk about the product. Explain to your audience how it would help you and how they would get a sweet game. Make a video about it or a segment in your twitch stream.

You can also use the promotional art provided in the package to create visual presentation of the product. Example would be create a BRB card for your twitch channel were you present the game and how every purchase helps you. Then ecverytime you go take a leak, people get to see the ad until you're back.

It comes with practice, don't be discouraged if you don't sell many copies on your first time around.

If you want assistance, get in touch with me and I'll see what I can do.

You mentioned streamers, pro-gamers, teams etc what if I'm not any of these, can I still apply?
Yes. So long as you think you can sell a few copies, you can participate. Even if you want to make a little bit of pocket money by selling the game to your friends and family, it's fine. Just make sure you're respectful when selling the game. Spamming is forbidden. All applications are reviewed manually to ensure you know the gaming culture, you have a good attitude and you are not a spammer.

If you are a gamer, you show a positive attitude and you can sell even a few copies, I'd be happy to work with you.

How can I increase my share of the revenue?
The program has a starting revenue share of 20% and it can be increase to up to 30%. There are two ways of doing so.

You can convince me that you will sell a lot of copies either because you have a large audience or you have done something similar before. Then we can negotiate a better share.
Or you can participate in the program for the first time with a 20% share and sell a lot of copies. The next game I release, I will automatically increase your share. You don't even have to ask for it. If you can prove to me, with numbers, that you are a valuable partner, I want to keep you happy.
How can I contact you?
Email me your affiliate related questions at "affiliates@igorsandman.net"